BOO'S CLOSET
FLOATING DOORS: 6 PER ROW
Test your grip and core strength while traversing your way across a series of floating doors. You will need all the strength, wits and grit to pull through this one so you are not left hanging.
2021 Sponsorship Available
HAMMER TIME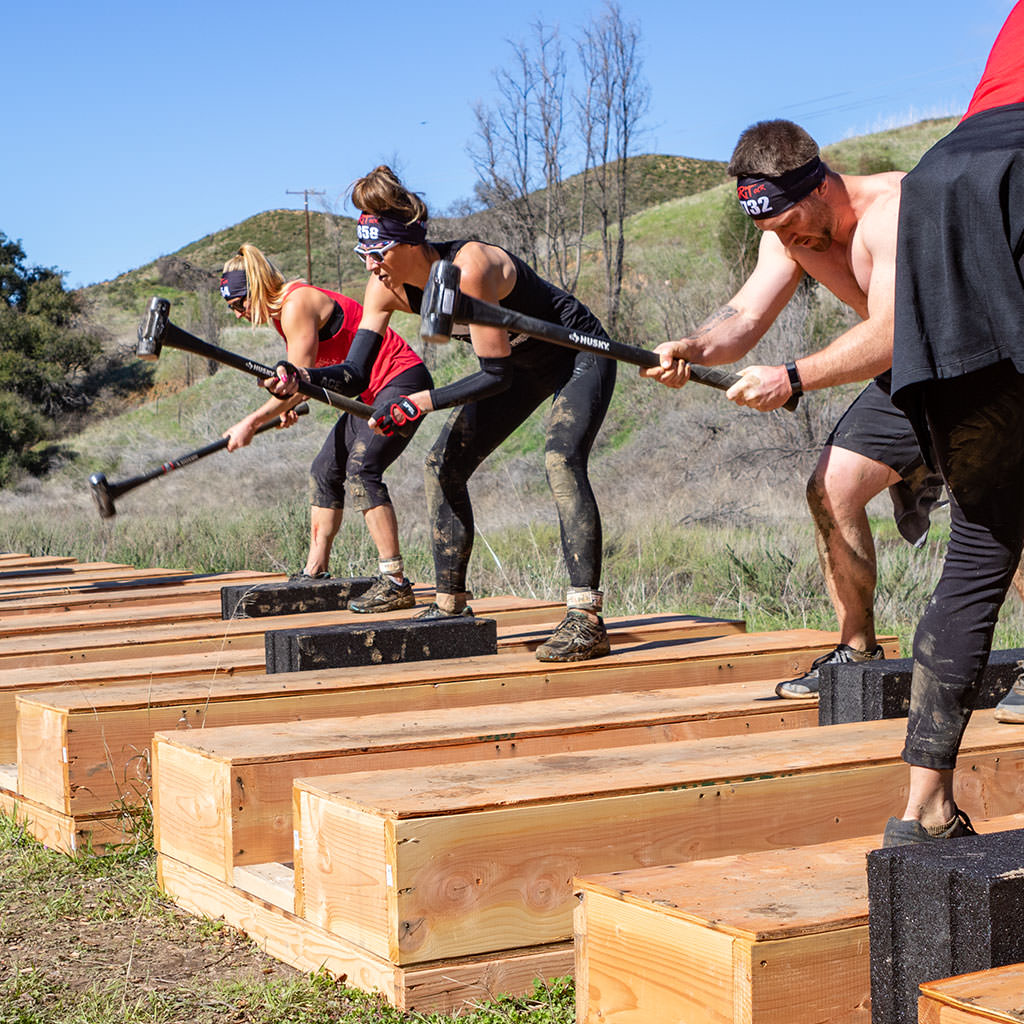 REPS: 1-EACH WAY
A unique obstacle to test your strength, core, and focus as you hammer a weight box up and down the track with a sledgehammer.
2021 Sponsorship Available
YOLK'D
MEN: 90-LB   WOMEN: 70-LB
Train like a strong man by carrying a pole weighted with cinder blocks on both ends. Carry these for 200 meters, testing your strength and agility.
2021 Sponsorship Available
OUT OF GAS
MEN: 25-LITER WOMEN: 10-LITER
Carry two military jerry cans full through 400 meters of tough trail terrain. At first, it feels easy, but the sand in cans make them heavy, so the longer you go it feels like your arms are ready to fall off!
2021 Sponsorship Available
HT FLIP
FLIPS: 8-FLIPS
Take a giant wooden cargo box, taller than you and heavy, now flip it forward four times and back four times. Pushing all your muscles to get this done your legs, core, and upper body.
2021 Sponsorship Available
HIGH STRIKER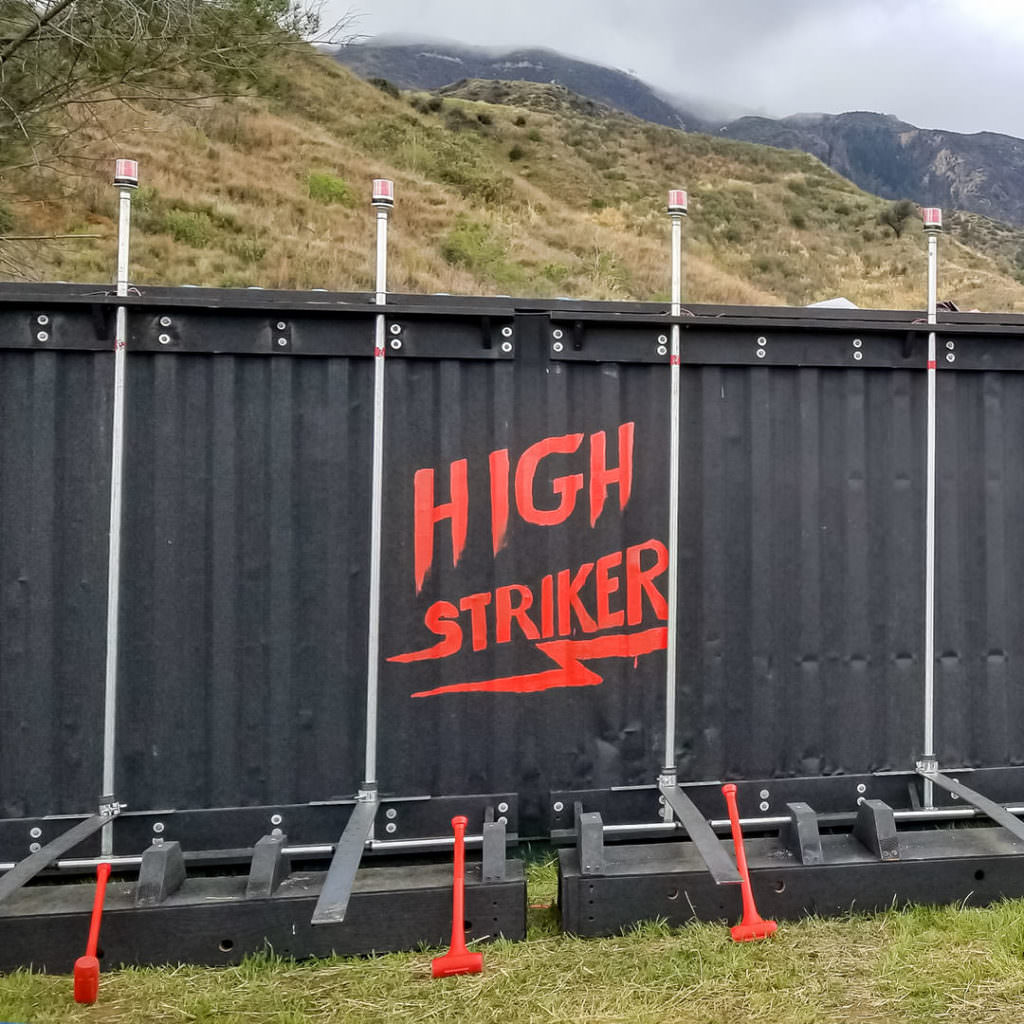 HAMMER STRIKE: 1 REP
A new signature obstacle as the final challenge before the finish line. Grab the hammer and strike the target hard enough to push the weight to the top to finish off with a bang!
2021 Sponsorship Available
HELL ON WHEELS
MEN: 400LB WOMEN: 300LB
NEW! Take a HEAVY or HEAVIER modified 4-wheel wheelbarrow loaded with sand as you lift and push out and back in a straight line. Switching sides at the halfway point.
2021 Sponsorship Available
TIMBER TANTRUM
DISTANCE: 1600-FEET   MEN: BIGGER   WOMEN: SMALLER
Pick up one of Rick's logs and carry out for approximately 800-feet and back for a total of 1600-feet. Awkward and challenging to grip and carry, each step gets harder and harder.
2021 Sponsorship Available
POTASSIUM
DISTANCE: 25-FEET
Test your grip strength and agility on this banana rig using only your grip and arm strength as you grab banana shape grips to get across. Tap the critter at the end to get off.
2021 Sponsorship Available
OVER IT HURDLES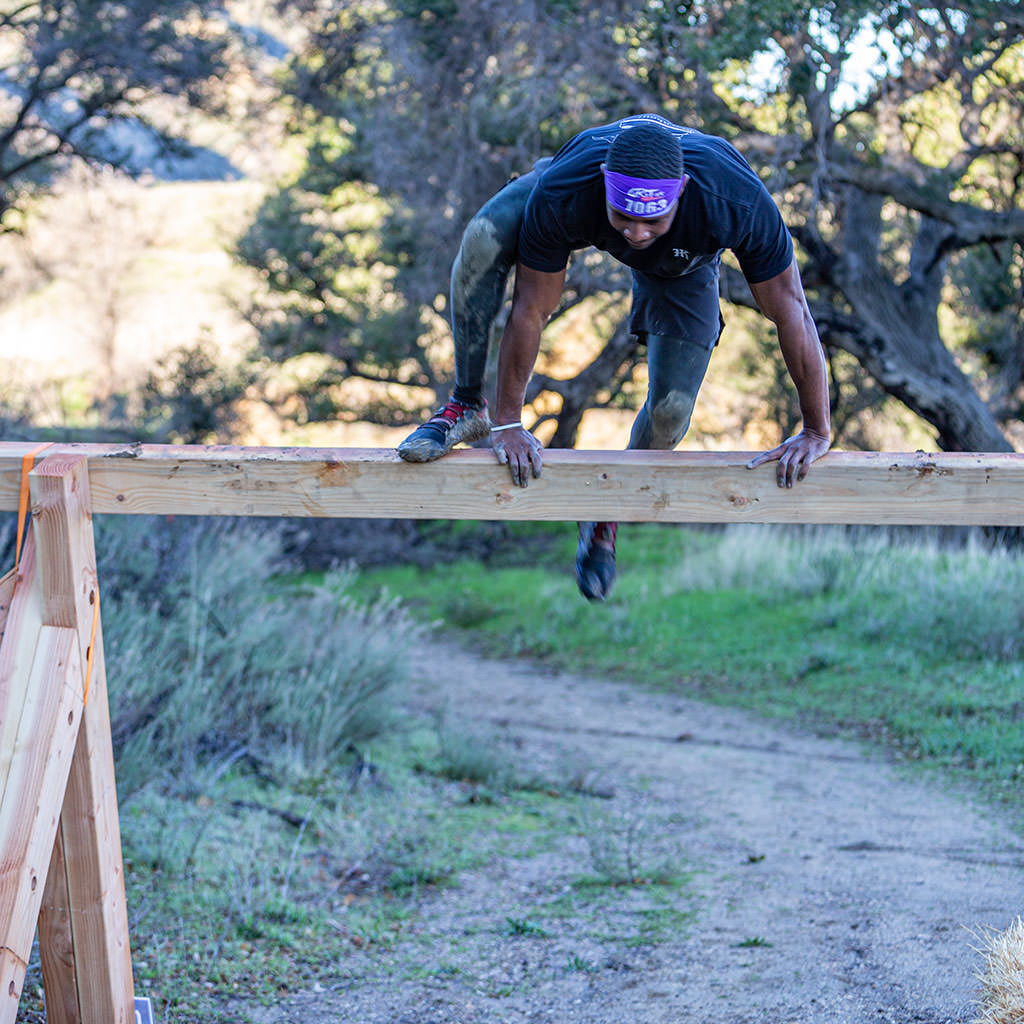 HEIGHT: 5-FOOT, 4-FOOT
Back to back set of high hurdle challenges to climb over, testing your jumping, upper body strength to pull up and over.
2021 Sponsorship Available
FLAMING LEGS
CLIMBS: 8 REPS WITH 20-LB PACK
Making use of the beautiful natural environment, run up and down a series of steep hill inclines while carrying a challenge pack that will build your strength and agility, oh and your legs will feel like they are on fire!
2021 Sponsorship Available
HARDKOUR CARRY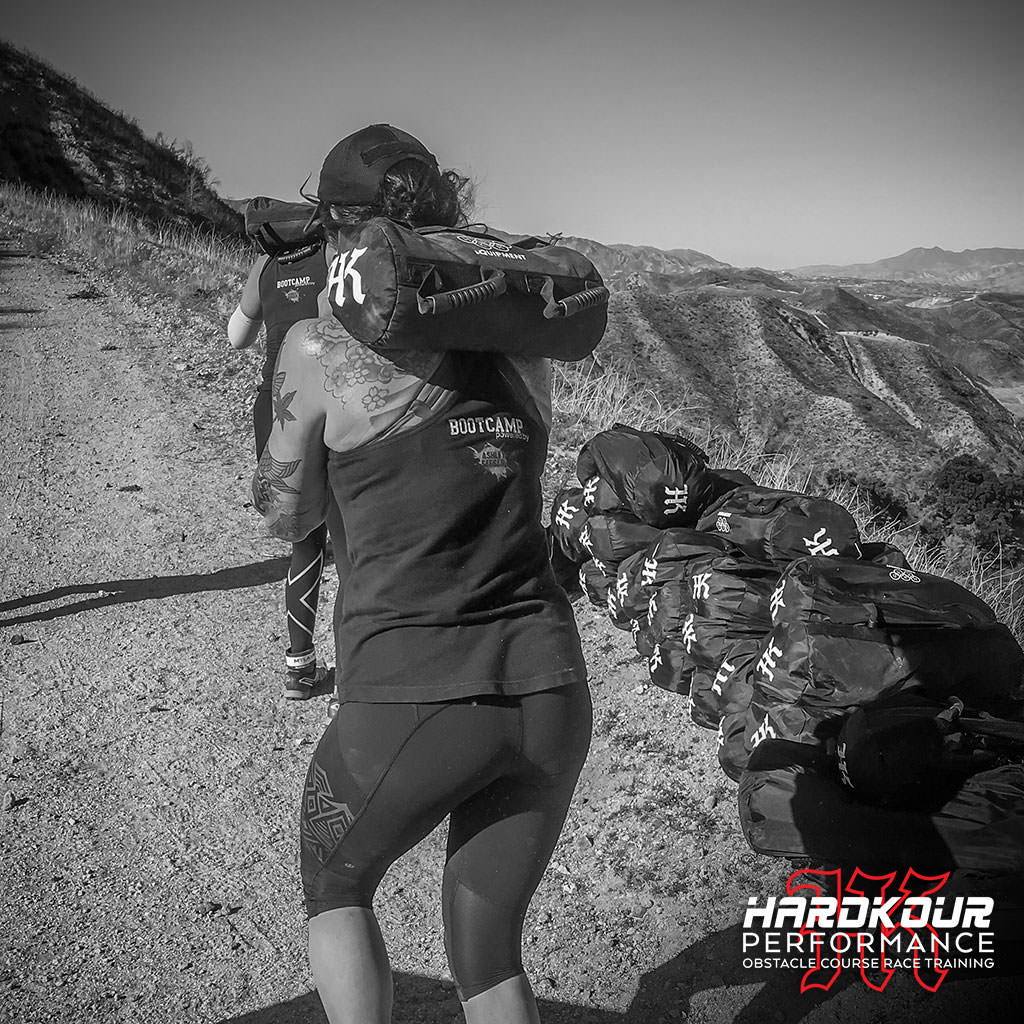 DISTANCE: 400M   MEN: 60 LB   WOMEN: 30 LB
Pick up and carry the Hardkour sandbags out for approximately 200-meters, plus hurdle walls to get over, then come back for over 400-meters total. A grueling challenge of your stamina, endurance, and strength that gets harder with each step.
Sponsored by Hardkour Performance
MAYHEM WALLS
HEIGHT: 8-FOOT, 6-FOOT, 5-FOOT
A series of challenging wall climbs, straight up 6 and 8-foot walls. Jump up, grab the top, and pull yourself up. Get your team mates to help you get through it.
2021 Sponsorship Available
BARB'D CRAWL
DISTANCE: 50-100-FEET
Thought that Cargo Creep was easy with the nice cargo net? Now you gotta stay extra low to avoid getting caught by the barbed wire as you crawl through to the other side.
2021 Sponsorship Available
RISE
HEIGHT: 15-FEET
A 15-foot rope climb using nothing but your wits, sweat, and upper body strength to get yourself up to the top to tap the stuffed critter and bell. Your arms will feel it and you will feel amazing!
2021 Sponsorship Available
Disclaimer: Please note that race information here represents what is planned for the Grit OCR event. Locations, course variations, and changes may apply depending on conditions, availability, and improvements. We strive to make the best race experience for participants. Thank you for understanding.
Obstacles can provide many challenges, both physical and mental, however, it is important to ALWAYS be safe and follow best practice with good form when entering into, doing, and exiting an obstacle. Below are a few instructional videos help guide you through some of the carry obstacles you will face on race day. Don't rush, take your time and set up right so you can get the best experience possible.
Bend at hips and knees, back straight, core tight, head neutral, stay in control, slow and steady pace, and remember to breathe!
GRIT OCR @ MT. HIGH DATE: 8/20/2022
MPORTANT: Read the update about the date change.
You will push yourself, it will be hard and rewarding, you will love it!