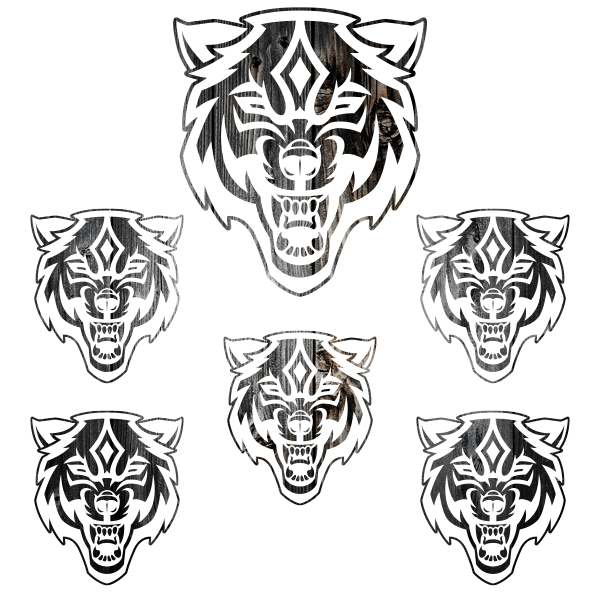 The leaderboard is updated daily. Who will have the largest pack by race day? Time to get your friends and family together to register now!
The leaderboard table will be posted as we get closer to the 2021 race date. 


Below you will find a few of the wolf pack teams and sponsors that are or have participated in the Grit Obstacle Course Race. Many of these are part of a local or regional fitness gym or CrossFit centers where they train together and participate in obstacle course races and endurance events together as a team, others are a group of people that get together to train and participate in events as a team. Learn more about each below and by visiting their website.
Need to find a wolf pack to join? Reach out and join one of the many teams already signed up for Grit OCR below. Plus our race crew will be there to support you along the way. Register now for one of the best race experiences you will ever have!
If you are part of a fitness group or organization and would like to participate then sign up as a corporate team or reach out to us to have your business featured here.
Location: Fallbrook, CA
Platinum PT provides the highest quality personal training to reach your goals. Their personal trainers have years of experience and are all nationally certified. Whether you're training for a particular sport or race, recovering from an injury, trying to eat healthier, or wanting to lose weight, their trainers have specialty certifications that meet those demands.
Location: Santa Clarita, CA
GoTRIBE provides small group classes, 1:1 personal training, online training, and health coaching services in our private studio locations. It would be an honor for us to work with you. Everybody type, every fitness level, every human is welcome at GoTRIBE.
Location: Buena Park, CA
Inspired by obstacle course racing, Hardkour Performance (HKP) breaks away from the conventional gym experience by offering equipment and workouts unique to training for such races. From our hand-picked team to our carefully selected choice of equipment, HKP's goal is to provide functional strength and conditioning by utilizing everything from total body workouts to military-inspired boot camp training and circuit training.
Location: Santa Clarita, CA
RUN Treadmill Studio is a premier and original treadmill fitness studio located in the heart of Santa Clarita. At RUN, their motto is to RUN STRONG and that is just what they teach! The heart pumping, fat incinerating interval classes are designed for and everyone. Whether you want to walk or an experienced athlete, this is for you!
Location: Everywhere
A group dedicated to MUD, OBSTACLES, and FUN!!! The Weeple Army welcome everyone, and their team includes every type of runners from beginners to Death Race finishers.
Location: Valencia, CA
A fitness health community built with a foundation of positive and coachable individuals who support the goals of everyone within the community.
Location: Chino, CA
Rock and Karma founders Raul and Karen have run over 100 obstacle course races between them, and they wanted to break into a branch of the industry that not many touches on. These races are more than just a physical test of body and mind, they have evolved into a widely accepted social phenomenon. Unfortunately, a lot of people shy away from them, thinking that it just demands more physical toughness than they have.  Our mission is to challenge that assumption.
Location: Lancaster, CA
A fitness center whose mission is to help, rehab, transform, and transition others to return to their active selves, be athletically conditioned, be conscious of their well-being, and to be able to achieve their health and fitness goals.
Location: Rialto, CA
The mission at Vibe Fitness SoCal is to enhance the performance and capability of all their members who train inside their facility. The structure of their strength & conditioning program is intended to get and keep members strong, healthy, and capable of living active lives.
Location: Everywhere
Forging Unbreakable Athletes. To challenge their athletes and push them beyond their limits, so that they find within themselves the strength to carry on through difficulty, and are thus inspired to do great things.
Location: Santa Clarita, CA
A facility for individuals that are looking to increase strength, conditioning, and flexibility through constantly varied functional movements executed at high intensity. The CrossFit training methods produce undisputed, tangible results for people of all ages and fitness levels; from beginners to elite athletes and everyone in between.
Location: Lancaster, CA  
A facility to build a community for people to see what they are capable of. Goals have been crushed, weight has been lost, PRs have been beaten and lives have been changed. Are you ready to change your life?
Location: Santa Clarita, CA
Proudly serving the moms of the Santa Clarita Valley. They are the nation's premiere pre and postnatal fitness program, offering classes for every stage of motherhood!
Location: Newhall, CA
We provide results – from the out of shape to the elite athlete. We get better results in less time than any other fitness program. We have the best training programs in the area and we prove it to our members every day. We are continuously striving to better ourselves and truly create the world's most effective fitness training system. We guarantee our members great workouts and great results!
Location: Canoga Park, CA
Iron Battalion was founded by a group of passionate CrossFitters and fitness enthusiasts. Their number one priority is delivering outstanding customer service, effective training, and a fun atmosphere to you.
Location: Everywhere
The Road Rage Runners are an open community of runners sharing our love for the road and passion for the trails. We are a 501(c)(3) organization seeking to encourage wellness and health in our community.
Location: Santa Clarita, CA & Lancaster, CA
The premier specialty athletic shoe store, featuring the largest selection of specialty running shoes in the Santa Clarita and Antelope Valleys. No matter how you like to workout, your shoes are critical to keeping you healthy and on-track with your fitness goals. Features large training groups for running.
Location: Lancaster, CA
A fitness center is where we provide our local community with a unique and dynamic physical fitness and training program that caters to you.
Location: North Hollywood, CA
CrossFit is for EVERYONE. Because we base our workouts on foundational functional movements, every workout and movement is scalable to your needs. CrossFit is not your ordinary "gym."  CrossFit Evoke provides a safe, supportive, fun, and motivating community.
Location: Santa Clarita, CA
For an energetic workout that will push you to your limits, stop into Orangetheory in Santa Clarita, California. Their heart-rate monitored high-intensity interval training (HIIT) sessions will get you on the right path to your fitness dreams.
Location: Santa Clarita, CA
Galvanize: Verb- to shock or excite (someone), typically into taking action. Galvanize SCV is a men's workout group in Santa Clarita, CA
Location: Oxnard, CA
Taking an old-school approach emphasizing fundamental, functional movements with proper technique. You will learn and get fit with ever-changing workouts that combine bodyweight exercises, weightlifting, and a huge variety of high-intensity drills that combine cardio and strength challenges at the appropriate level for each person.
Location: North Hollywood, CA
Their core purpose is to create the world's most effective fitness system in a motivating environment that actually achieves great results for their clients – something they don't believe that 'big box gyms' can consistently offer. They deliver personalized fitness coaching in a small group and semi-private (individualized) setting.
Location: Irvine, CA
"Surround yourself with the dreamers and the doers, the believers, and thinkers, but most of all surround yourself with those who see Greatness within you..."
Location: Valencia, CA
Redefining the modern health club. Blending industry leading classes, coaches, and trainers that run some of the most dynamic and energy filled fitness classes around with all of the amenities of a high-end health club, Afterburn Fitness is redefining what a health club should be.
Location: Santa Clarita, CA
Coaching is about more than just taking you through the motions, a good coach is highly skilled at technique, the ability to give cues, programming, motivation, and able to handle any situation. Our coaches aren't just good, they're great and they create great athletes.